Thursday, November 17, 2011 at 06:39PM
Today marks the fiftieth anniversary of Michael Rockefeller's disappearance in the churning waters off the coast of western Papua's remote and headhunter-populated Asmat region. Rockefeller, who was in the region to collect Asmat art and artifacts, tried to swim for shore after capsizing the overloaded catamaran he'd rigged up using two local canoes. An extensive search turned up no trace of the young heir; the official conclusion was that he had probably drowned while trying to swim to shore from his swamped boat.
Absent a corpse, alternate theories proliferated: that he orchestrated his own disappearance, or was eaten by crocodiles or sharks, or that he'd made shore and was eaten by cannibals or being held as a captive god. Decades of grisly speculation have yielded books, films, TV shows, and at least one song by a 1980s jangle-pop band from Georgia. Over the past year, the mystery's cultural staying power has been reaffirmed, first with an off-Broadway play called "The Man Who Ate Michael Rockefeller" by playwright Jeff Cohen, and then with a documentary called "The Search for Michael Rockefeller" directed by Fraser Heston, son of screen legend Charlton Heston, that utilizes footage and interviews shot by a film crew that went looking for Michael in 1968.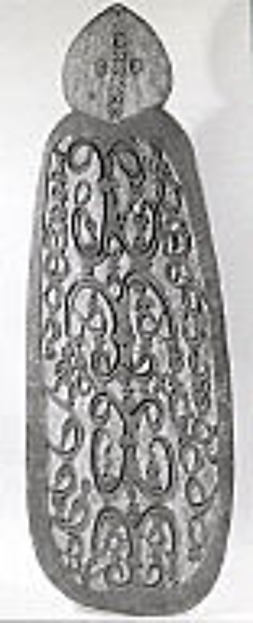 An Asmat shield collected by Michael Rockefeller.For those looking to understand a little of what drew Michael to this fantastical part of the world, it's worth perusing the truly impressive array of objects he collected during his brief time among the Asmat. The objects--spears and shields and ceremonial poles and canoes and household tools--were shipped back to New York after his disappearance, and many are on permanent view in the Michael C. Rockefeller wing of the Metropolitan Museum of Art in Manhattan.
And then, of course, there is my own contribution to the Rockefellerana genre. I first wrote about Michael's disappearance for Outside magazine in 2003 and subsequently helped develop that article into a television pilot for the travel channel, which I wrote and hosted. The companion article to the TV show, which also ran in Outside and can be read here, recounts our expedition to Western Papua as well as the travails of first-time TV hosting. For those who missed my brief foray into television, the trailer for the show is embedded below.
Tim Sohn
|
Comments Off
|